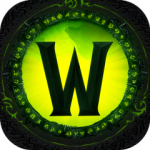 The new app "Satellite" for devices running Android will not let you waste time! Now you can control the game wherever you are.
Local JOB TRACKING: view active local jobs and send your teammates for loot directly from the app. You can evaluate the rewards and decide what tasks to do in the game.
MONITOR the progress of TASKS: you will be able to view the available tasks in the class stronghold and start their execution directly from your mobile device. You can also complete tasks and collect rewards, manage your teammates, change their equipment and recruit troops for future tasks.
CLASS STRONGHOLD MANAGEMENT: lead the research and track the status of the technical development of the class stronghold, so as not to lose touch with what is happening in the game.
**To use all of these features, you must purchase world of Warcraft, World of Warcraft: Legion game licenses, and have a valid world of Warcraft subscription and at least one character of the appropriate level. Players with World of Warcraft accounts that do not meet these requirements will be able to sign in to the app, but will not be able to select a character.
Download WoW Legion Companion APK
Work?
Thank you, your vote is accepted