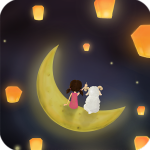 LanternFestival Live Wallpaper APK
LanternFestival Live Wallpaper – Excellent live wallpaper on android, where you will be watching in your phone a lantern festival in China. In these wallpapers you will see on the screen a girl who climbed the moon with a cute kid to enjoy with a high flight of lanterns that will illuminate the sky. People came up with this festival in order to launch their desires and dreams to the sky in order to make them come true. Swipe your device around the screen and watch as the girl raises her hands in the sky and points at the stars with her finger. Beautiful live wallpaper that will give you a fabulous mood.
ApkVision.org
Download LanternFestival Live Wallpaper APK
Work?
Thank you, your vote is accepted