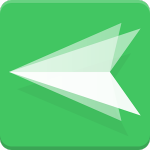 AirDroid is a fast, and most importantly free application that allows you to control your Android device wirelessly from your browser.
A bit about the capabilities of the application =)
Transfer files between Android devices and computers. Now with drag & drop support.
Cutting, copying, pasting, searching, renaming or deleting files on a memory card.
Receiving, sending, forwarding or delete SMS messages.
Install, delete, backup, search for applications and save them as .apk files.
Preview, delete , downloading, downloading, installing as wallpaper and a slide show of photos from your desktop.
Editing text on the device's clipboard via a computer.
Grouping, searching, creating giving contacts, viewing and deleting call logs.
Searching, viewing, downloading, downloading, deleting and configuring ringing tones, notifications and alarm.
Playback , search, update, delete, or set as ringtones, notifications and alarm.
Login via web.airdroid.com with QR code. Tired of long 192.168.xxx.xxx IP addresses? All you need is to read the QR code on web.airdroid.com.
Safe work even in a public Wi-Fi network.
Viewing the screen Android in real time (experimental function, you need root rights).
View your Android screen, take "screen shots" or record videos.
AirDroid designed for multitasking.
Added images for most devices, various widgets (calendar, weather, opening links, clipboard, etc.), frequently used contacts …
AirDroid is available in many languages, including: English, Japanese, Spanish, Italian, French, German
/>
In addition, AirDroid has the following functions:
View the status of the phone's built-in memory, memory card, battery, processor and operating system real time and graphics to show available, used, shared resources and a button for quick optimization.
Stopping or removing running applications, batch processing is supported.
Delete, send to friends and view information about user and system applications.
Manage, cut, copy, rename, send to friends, delete, sort and create visible or hidden folders and files. / p>
ApkVision.org
Download AirDroid APK
Work?
Thank you, your vote is accepted
Work?
Thank you, your vote is accepted
Work?
Thank you, your vote is accepted
Work?
Thank you, your vote is accepted
Work?
Thank you, your vote is accepted