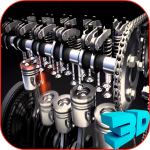 Engine 3D Live Wallpaper APK
Engine 3D Live Wallpaper – live wallpapers on android, where you can watch the engine running in 3D. If you like to consider the work of mechanisms and understand the principle of their work, then these living wallpapers are created for you. Start the engine of the car and watch how its parts move, and the energy necessary for the car's movement is obtained. The wallpaper will please you with a realistic and animated picture and you can view all the smallest details of this mechanism and evaluate its performance. Install this wallpaper in your device and get the most out of the movement of the details.
ApkVision.org
Download Engine 3D Live Wallpaper APK
Work?
Thank you, your vote is accepted