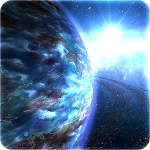 Planets Pack 2.0 – excellent live wallpapers for android with little requirements for installation. The application will open for you new planets with a good detailed view! You have a unique opportunity to observe at some distance from the planet as it carries various atmospheric processes peculiar to each planet. Unfortunately, the planets have no astronomical names, tk. they were lost in the galaxy and did not get a name! At the moment, there are six lost planets to which the author of live wallpaper has appropriated his own names. You can adjust the planet's type, rotation speed, wind, clouds, lighting, density and temperatures at the atmosphere. Download free live wallpapers for android from the link below!
ApkVision.org
Download Planets Pack 2.0 APK
Work?
Thank you, your vote is accepted
Work?
Thank you, your vote is accepted