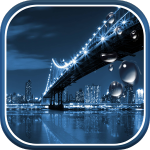 Night City Live Wallpapers APK
Night City Live Wallpapers – live wallpapers on android, thanks to which you can
different cities in the world. These wallpapers will please you
animation, as well as various effects such as: the effect of live rain and
the effect of misted glass on which you can draw with your finger. In the wallpaper you
will find a set of 16 HD
pictures with images of night cities such as: New York, Cincinnati, Manhattan, Dubai, Hong Kong, London and Paris.
Go into the settings and change the pictures on your own. Wallpapers also
will please you with low battery consumption and support of different modes.
ApkVision.org
Download Night City Live Wallpapers APK
Work?
Thank you, your vote is accepted