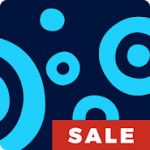 Bubbles Live Wallpaper APK
Bubbles Live Wallpaper – Excellent live wallpapers on android, where you can watch on your phone screen or tablet various bubbles. Bubbles will move around the screen at different speeds and have a different color and size. Watch for the movement of bubbles and go into the settings to change their color, background color, add shadows, change the color of the gradient and change their speed of movement. Install these live wallpapers on your phone and watch the slow motion of bubbles on the screen that will react to your touch.
ApkVision.org
Download Bubbles Live Wallpaper APK
Work?
Thank you, your vote is accepted